Upcoming Events
Thursday, September 18, 2014  /  7:00 pm
Law Enforcement Appreciation Dinner with NLC's Michael MacIntosh
Black River Beach Neighborhood Center
La Crosse, Wisconsin
NLC PROTECTS
NLC PROTECTS Trainings are being planned for Arizona and California. Please see our NLC PROTECTS page for a full listing of Courses offered at PROTECTS Trainings.  Meanwhile, NLC Conference Seminars are presently available throughout the year in conjunction with relevant national and international conferences relating to the protection of children from sexual exploitation.
Recent NLC Conference Trainings
Tuesday, February 18, 2014  /  9:00 – 10:00 am
My Sister's House Human Trafficking Conference –  California State University, Sacramento Presented by NLC Chief Instructor, Wendy L. Patrick, J.D., PhD        
Monday, September 9, 2013  /  4:00 – 5:30 pm                                                                     Lessons from the Dark Side: Sexual Predators and the Psychology of Attraction
Presented by NLC Chief Instructor, Wendy L. Patrick, J.D., PhD                         
This seminar was presented at the 18th Annual International Conference & Summit on Violence, Abuse and Trauma  (IVAT).
Call for Presentations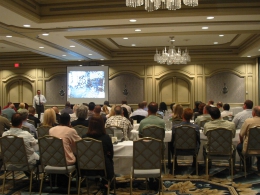 Since first offering NLC PROTECTS Seminars in 2006, the National Law Center for Children and Families has produced nearly 20 seminars across the nation, and has trained over 1800 attendees to protect children from sexual exploitation.
The NLC currently has openings for qualified speakers for our 20115 seminars. We seek to continuously augment our quality training program with dedicated professionals who are devoted to making a difference in confronting the scourge of child exploitation by training the front line professionals in law enforcement, prosecutors, probation and parole officers and investigators across the nation.
NLC Training features locally and nationally known experts, dedicated attorneys and law enforcement professionals involved in investigating and prosecuting crimes against children, in order to train government attorneys and law enforcement with the most up-to-date resources available to to detect and prevent these crimes.
Click here for a copy of our Speaker Nomination Form. Thank you for joining us in this effort to protect children.